Literature about cryptology and secret writing

Quick-Links: || List all books || List collected books || List children books ||


Nicht zu knacken
Klaus SCHMEH
2012 (German)
296 pages


Deutscher Text

Collection

7867 detail viewes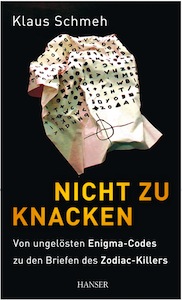 No english text available.
Schmeh mausert sich zum wohl bedeutendsten deutschsprachigen Autor zu diesem Thema - wenn er das nicht schon l├Ąngst ist. Dieses Buch, das ich als Presse-Vorabversion erhalten habe, liest sich einfach gut und spannend. Es beschreibt zehn gro├če ungel├Âste R├Ątsel der Kryptografie. Nat├╝rlich sind die bekannten dabei (Voynich, Zodiac, Beale, Kryptos) aber auch ein paar, die in B├╝chern oder Presse oft zu kurz kamen - v├Âllig unverdient ├╝brigens (Codex Rohonci, Hamptons Notizbuch). Ein absolut lesenwertes Buch f├╝r Abende mit Kopfsch├╝tteln, Erstaunen und vielen Fragezeichen im Kopf, die den ein oder anderen Leser anregen, sich mit einem der R├Ątsel n├Ąher zu besch├Ąftigen. Dies wird nicht schwer fallen, denn entgegen vielen anderen B├╝chern bringt der Autor nicht nur ein paar Bilder und ein paar Zeilen zur Geschichte - nein, jedes R├Ątsel wird ausf├╝hrlich und mit vielen (teils neuen) Informationen belegt. Fotos aus Schmehs aussergew├Âhnlicher Bildsammlung geben den R├Ątseln den letzten Schliff. Eine lange Einleitung ├╝ber die Geschichte der Kryptologie rundet das Buch ab. Absolut empfehlenswert!

| | | | | |
| --- | --- | --- | --- | --- |
| | | http://www.schmeh.org/meine_buecher.htm | | |
---
Die Erben der Enigma
Klaus SCHMEH
2011 (German)
90 pages


Deutscher Text

Collection

7950 detail viewes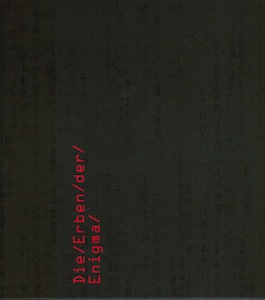 No english text available.
Mal wieder eine Qualit├Ątsarbeit von Klaus Schmeh. Wirklich liebevoll aufgearbeitet und mit vielen teils seltenen Bildern versehen, versetzt uns der Autor 60 Jahre zur├╝ck in die Vergangenheit. Jedes Kapitel umfasst 10 Jahre Kryptologie und erkl├Ąrt die Welt der geheimen Kommunikation. Von der Enigma, der Kryha ├╝ber die Anfange der elektrifizierten Ger├Ąte bis hin zu RSA und Quantenkryptographie. Ein wundersch├Âner Abriss der Geschichte - nicht nur optisch. Leider nicht zu kaufen - es ist eine Auftragsarbeit der Firma secunet.

| | | | | |
| --- | --- | --- | --- | --- |
| | | http://www.schmeh.org/meine_buecher.htm | | |
---
Hacking f├╝r Manager
Tobias SCHR├ľDEL
2011 (German) Wiesbaden
246 pages


Deutscher Text

Collection

7932 detail viewes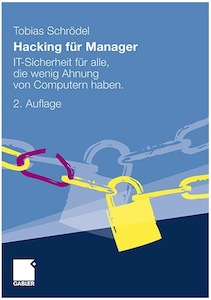 No english text available.
Aus gutem Grund hier nicht bewertet. Aufgef├╝hrt deshalb, weil es sieben kurze Geschichten ├╝ber historische Kryptografie enth├Ąlt.

| | | | | |
| --- | --- | --- | --- | --- |
| 29,95 | | http://www.amazon.de/Hacking-f%C3%BCr-Manager--Sicherheit-Computern/dp/3834933422/ref=sr_1_1?s=books&ie=UTF8&qid=1323715197&sr=1-1 | | |
---
Aegean Park Press Catalog

2010 (English) Aegean Park Press
32 pages


Deutscher Text

Collection

11367 detail viewes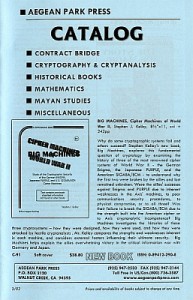 This catalogue lists all in the Cryptographic Series published books by Aegean Park Press.
In total there are 91 books either published or reprinted.

---
CrypTool Script
Prof. Bernhard ESSLINGER
2010 (German & English)
290 pages 10th edition


Deutscher Text

Collection

13543 detail viewes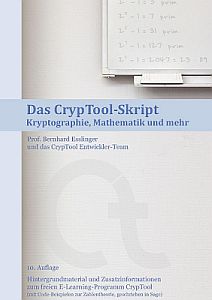 This document introduces solidly in the basic methods of cryptography. It is provided with the free learning software CrypTool (www.cryptool.org) that teaches hands-on cryptography. As well as the tool itself, this script is of enormous quality and therefore one of the best starting positions for starting cryptologists. For free as download version in german language as well as in english. (10th edition in english: 280 pages)

---
Versteckte Botschaften
Klaus SCHMEH
2009 (German) M├╝nchen, heise Verlag
34 pages


Deutscher Text

Collection

11810 detail viewes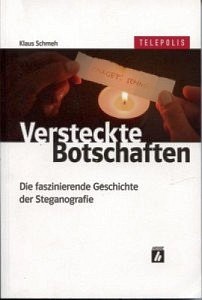 Probably the first book about steganography - and very readable. Worth a try.

| | | | |
| --- | --- | --- | --- |
| 18ÔéČ | | | |
---
Codeknacker gegen Codemacher
Klaus SCHMEH
2008 (German) W3L-Verlag
414 pages with excellent color pictures


Deutscher Text

Collection

10463 detail viewes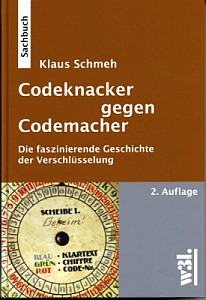 No english text available.
Die Neuauflage von "Die Welt der geheimen Zeichen" - und daf├╝r ein wahres Juwel.
Klaus Schmeh versteht es einerseits (meist sehr) spannend zu schreiben und andererseits den Hintergrund nicht zu vergessen.
Er bringt viele neue Informationen ans Licht wie z.B. den eigentlichen Ursprung eines Patentes einer Krypto-Maschine (welche, wird hier nicht verraten).
Sehr spannend nat├╝rlich auch f├╝r Einsteiger das Kapitel ├╝ber die noch ungel├Âsten Chiffren dieser Welt (d'Agapeyeff, Dorabella etc etc).

Mir pers├Ânlich fehlt (immer noch) etwas mehr Info ├╝ber die ein oder andere Neuigkeit oder Entzifferung, aber das h├Ątte wohl den Umfang des Buches gesprengt und auch die gr├Â├čere Zielgruppe verfehlt. So ist das Buch f├╝r Einsteiger und Interessierte, als auch (weitgehend) f├╝r Profis ein gut zu lesendes Buch mit vielen Informationen. Wer jetzt noch kein Hobby-Kryptologe ist, wird es nach dem Lesen sein.

---
Die Sache mit Sorge - Stalins Spion in Tokio
Isabel KREITZ
2008 (German) Carlsen Comics Hamburg
255 pages 9 pages character studies of R.Sorge


Deutscher Text

Collection

12048 detail viewes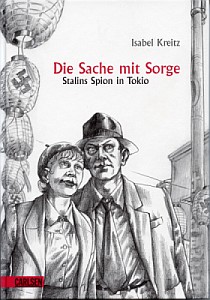 UNBELIEVABLE! A book as a comic. Historical correct (as far as I can check that) this book tells the story of Stalins german spy at the german embassy in Tokio 1941, Richard Sorge.
As secret writings is part of a spy story, this book is listed here. And also because it was a gift of Prof. Esslinger, when I held a presentation at the childrens university in Siegen, when CrypTool was awarded.

---
Kultur & Technik
Deutsches Museum M├╝nchen
2008 (German)



Deutscher Text

Collection

9907 detail viewes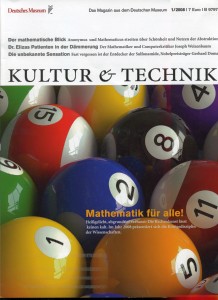 No english text available.
Die Ausgabe zum Jahr der Mathematik bereichert uns auf einigen Seiten zum Thema Mathematik - auch f├╝r Kinder. Nicht wirklich 100% zum Thema Kryptographie, aber als Anreiz. Die Matheausstellung im Deutschen Museum ist 2008 ├╝brigens erneuert, verbessert und einen Besuch Wert! Dann kann man auch mal eine Enigma sehen.

---
ACA Directory
ACA
2007 (English)
32 pages


Deutscher Text

Collection

10203 detail viewes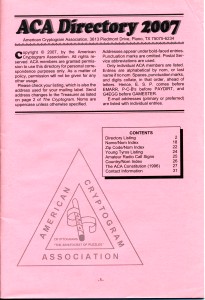 No english text available.
Das ACA Directory enth├Ąlt die Adressen, den Namen und NOM (eine Art Sysnonym) der Mitglieder in verschiedenen Sortierungen.

---




1 [2] [3] [4] ... [53] [54] [55]
---

All pictures (c) Tobias Schrödel, some of the figures (c) of the publisher.